I'M STAYING Adaptation to the Home (Summer Project)
Letrangere Gallery
4th July - 7 September 2019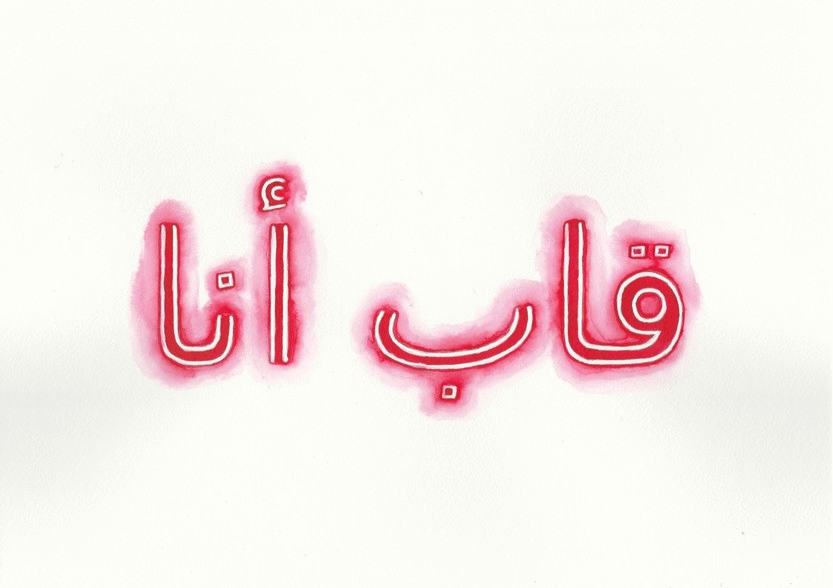 Adaptation to the Home
Watercolour and Ink on Acid Free 300gsm paper. 210 x 297mm
The I'M STAYING project initially commenced from a personal moment, a longing to understand a place I had been living for sometime having just departed (Bristol in 2013). It was a place I would have called home. I wished to understand my relationship to the city which included the many houses I had lived in, my friends, part time jobs, studio, local pub, and everything else that creates our own individual community. I wanted to undertake this investigation, but not in isolation, as for me that is not how we (humans) operate. I wanted others beyond me to consider something similar, in essence what makes a place a home.
The I'M STAYING neon travelled around the city of Bristol for 2 and a half years moving quarterly via the Bristol public voting online and ballet. The Bristol public voted, for community centres, artistic hubs, museums, local swimming pool, a school theatre, adult learning centres, local bar and many more. These places all have a sense of congregation, somewhere that becomes activated by the public. The public was in a way announcing places that had value to them and their community. The neon was a statement of affirmation but also a provocation for some. A statement which instilled hope, to fight back gentrification and corporate development, such as when Co-exist hosted the neon at Hamilton House, who for years fought against their eviction which happened end of 2018.
As the British political landscape shifted during the neon's travels around Bristol, its discourse began to widen with a more significant political and social reading, especially as its final launch at local bar The Old Bookshop, coincided with the EU Referendum. The neon then disappeared for 2 years becoming more politically poignant as time went on, all the while stored in crates, awaiting the right opportunity to be presented once again. In 2018 the neon arrived in Central London, the home of UK Politics with Westminster, 3 miles down the road from Leadenhall market the neons new home, in the City of London, the old square mile. The UK political debate increased in volume, though the neon has always been defined by its context, which could initially be read as a mirroring of the historic market's resilience over the centuries as the landscape around it has changed.
London was largely remain with 28 out of 32 boroughs voting to remain, but the impact of the anti-immigration rhetoric surrounding the Brexit debate has made many feel unwelcome in a country which is their home. The I'M STAYING neon can not solve any political issues, and it never was intended to do so, but it still creates an air of positivity when individuals share images of the neon online, some using subtle hashtags such as #imstaying #whatever #hereiam or #imstaying #metoo with others stating more obvious messages such as
"Oh London, I have love/hate relationship with you, but soon we will have 10 years anniversary. And I'm here to stay"
The neon at times can feel like a beacon of optimism, for others to use for there own personal message, wether that's to defy certain political groups or a personal reminder of why we are here in the first place. We all have a right to a home wether that's somewhere you are born or move too. I have had many places I have called home each underpinned by my own narrative. There was a moment when the neon first arrived to London that I felt the discourse had become so politically intertwined that it had become de-personalised but I was wrong.
I have since commenced a new segment of the I'M STAYING Project titled I'M STAYING
Adaptation to the home
, which is about addressing this broad discourse the neon is generating politically, but from a more human perspective. I aim to translate the statement I'M STAYING into as many languages as I can, but not via google translate, but by meeting people in my local community and talking with them. By sharing a short moment with a stranger, to discuss about what makes this place a home for both of us, we are coming from the same perspective.
The I'M STAYING neon currently resides in a city where over 300 languages are spoken on a daily basis. Each of those languages echoes beyond this island we call a home, and resonates to multiple points on the earth which are also someone's home. The fact is we have more than one home, and I'M STAYING could exist anywhere in the world. The I'M STAYING neon has become recognisable in its colour and font, and this is extended in the more delicate neon watercolour/ink drawings, seen below. The stereotype that many British people only speak a single language feels more truthful in somewhere like London, with multiple languages being heard. The idea that a word can be understood simply from its font and colour, I hope presents the potential.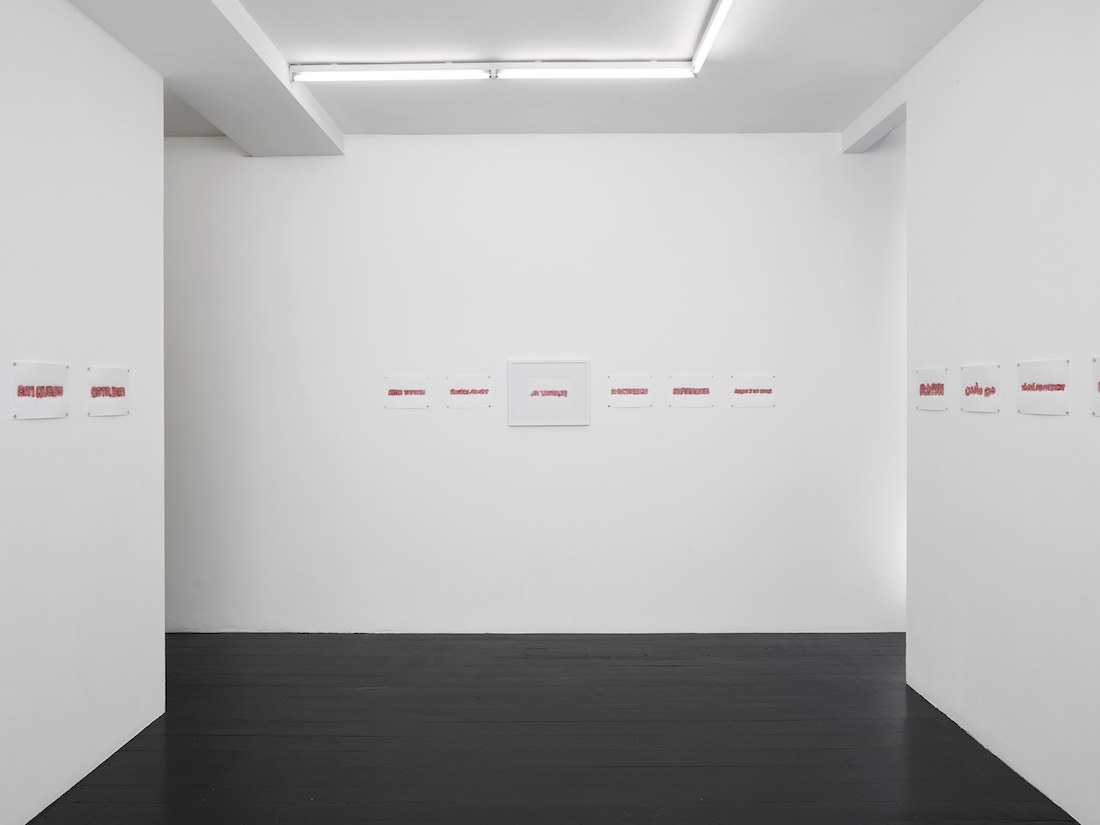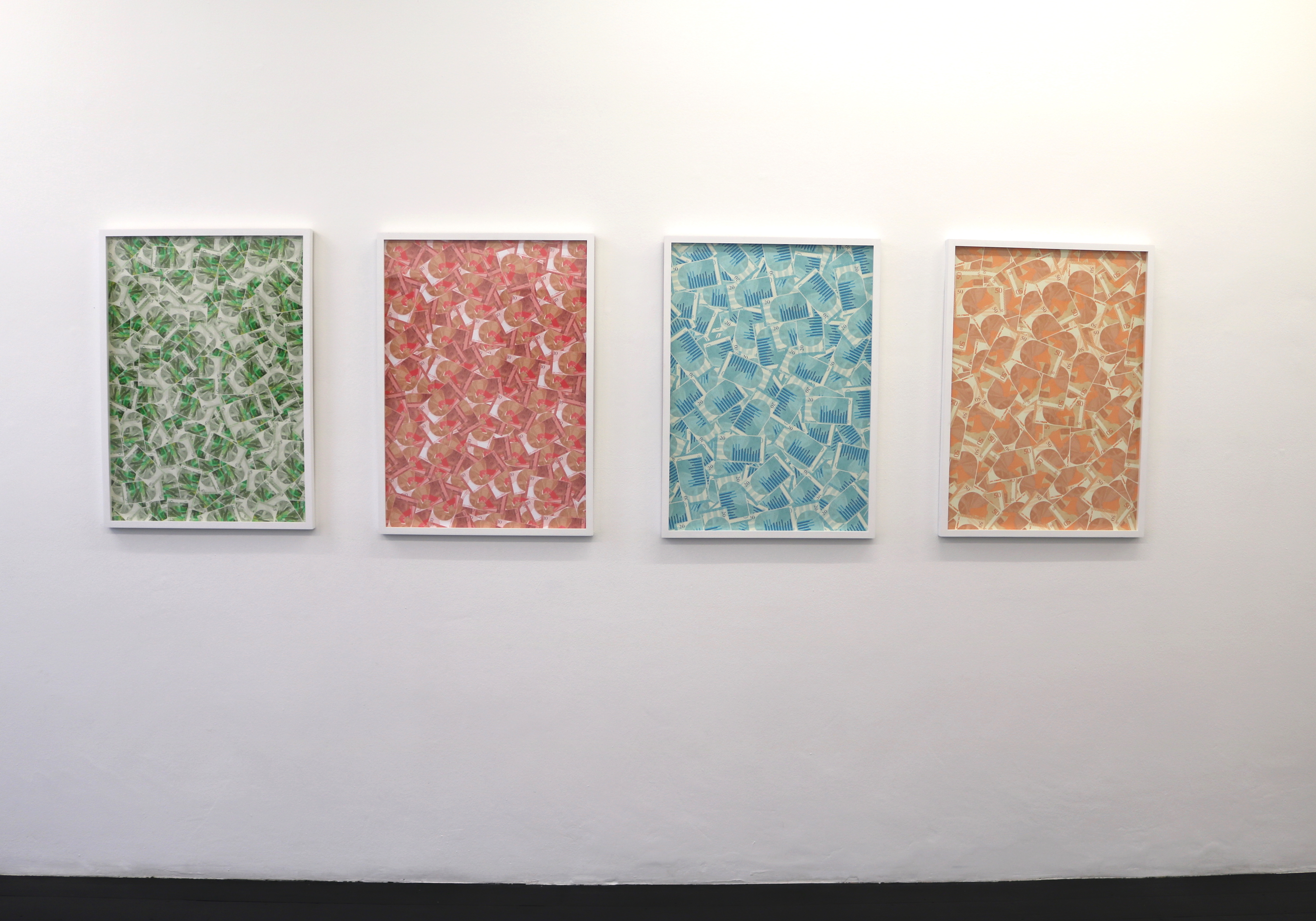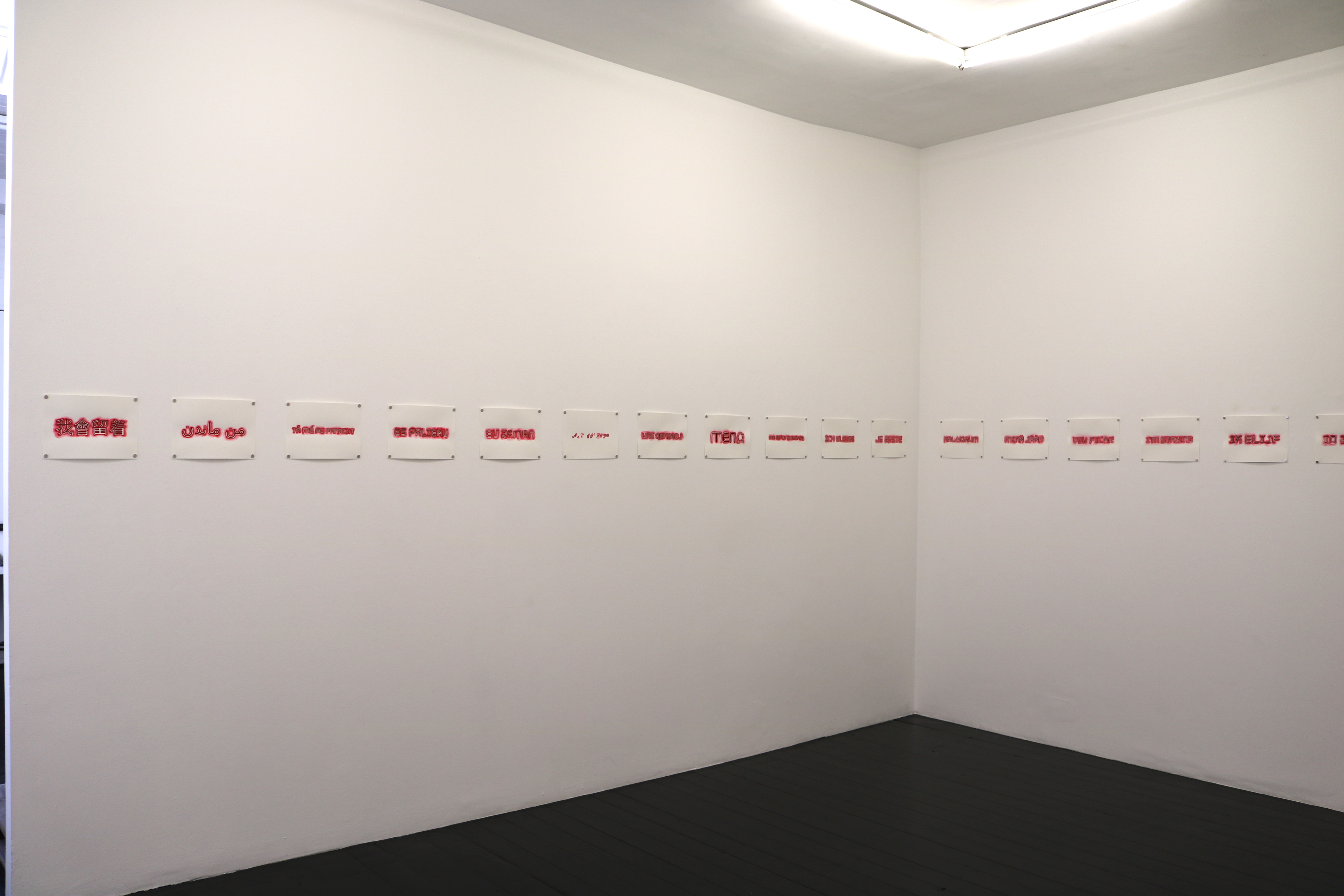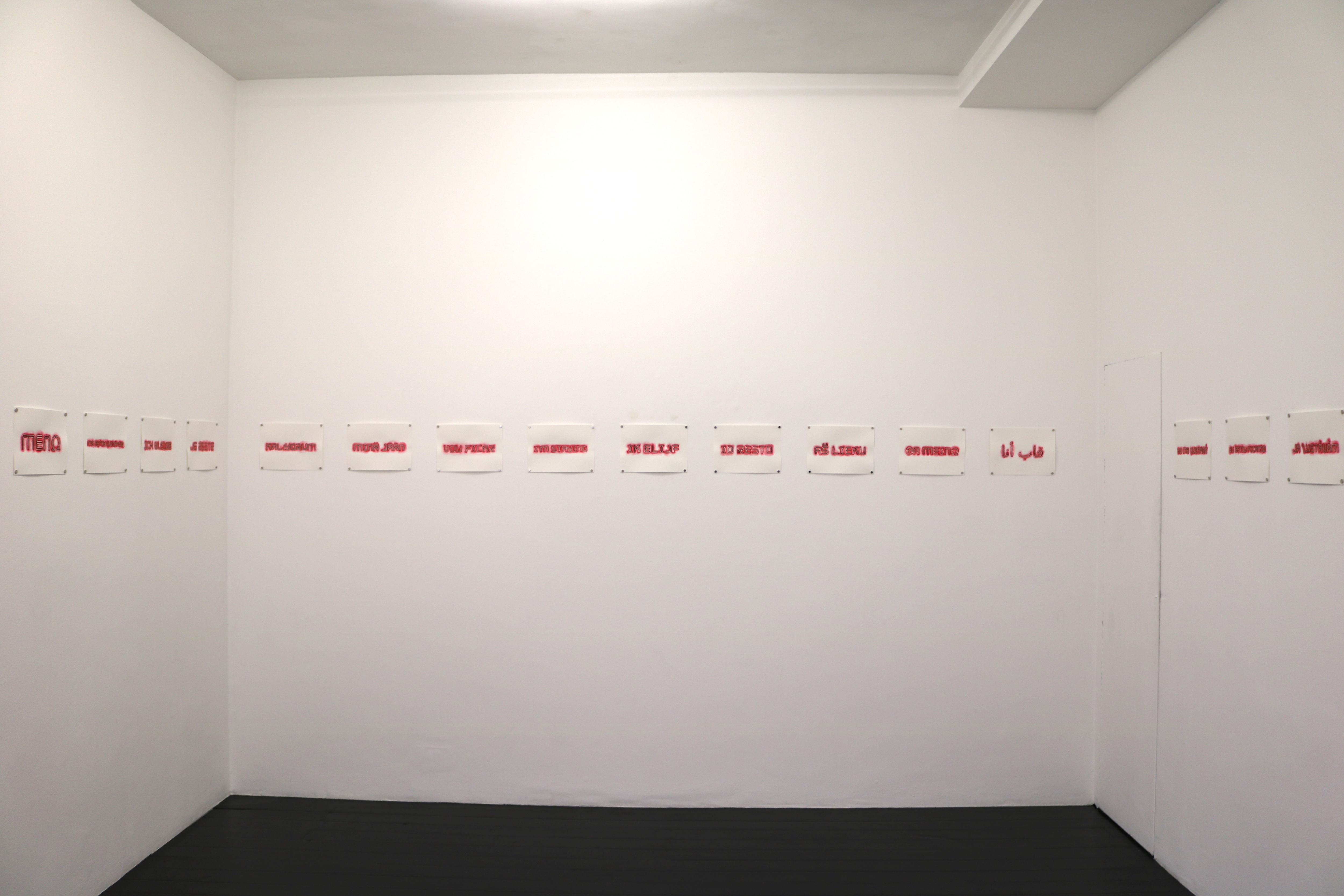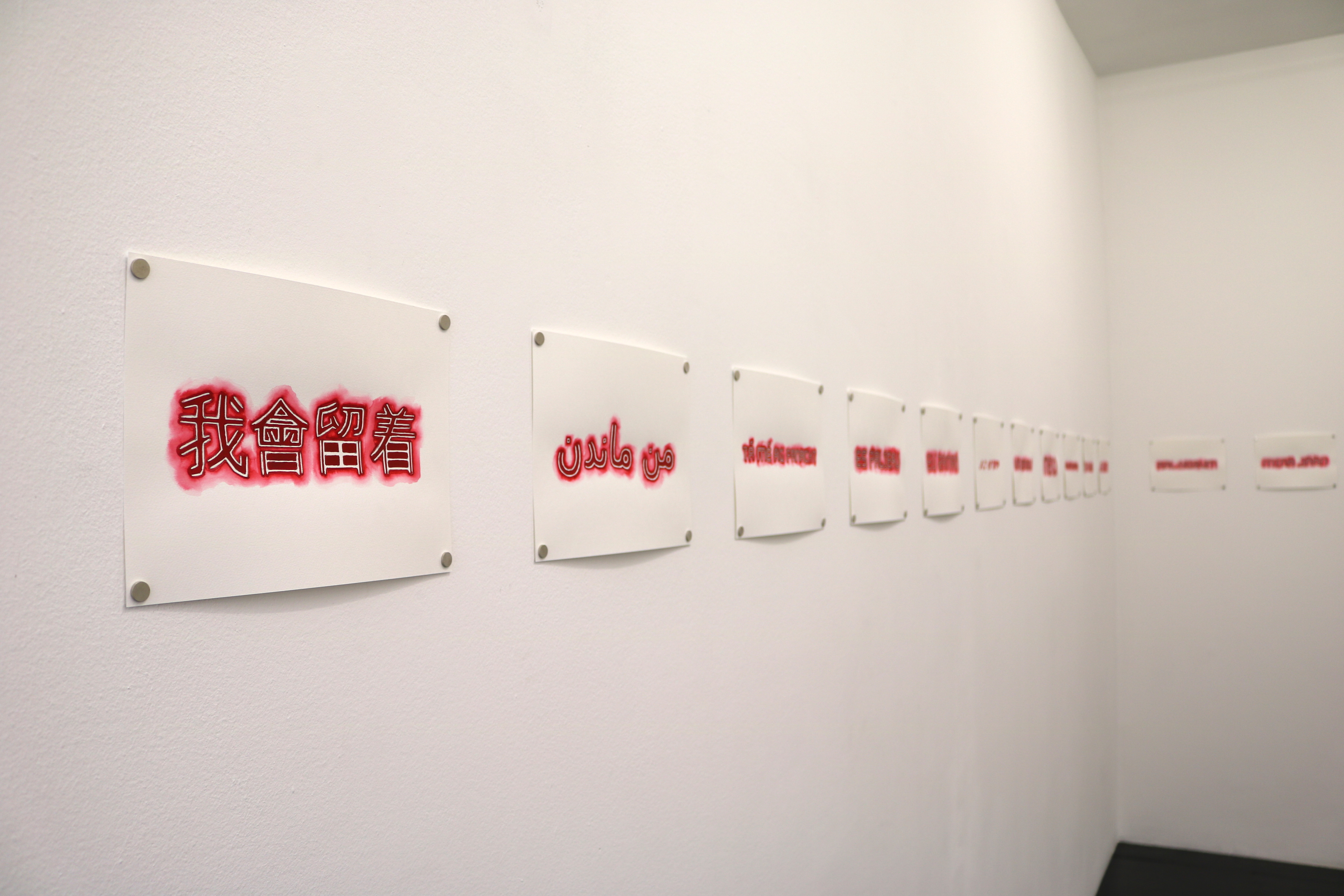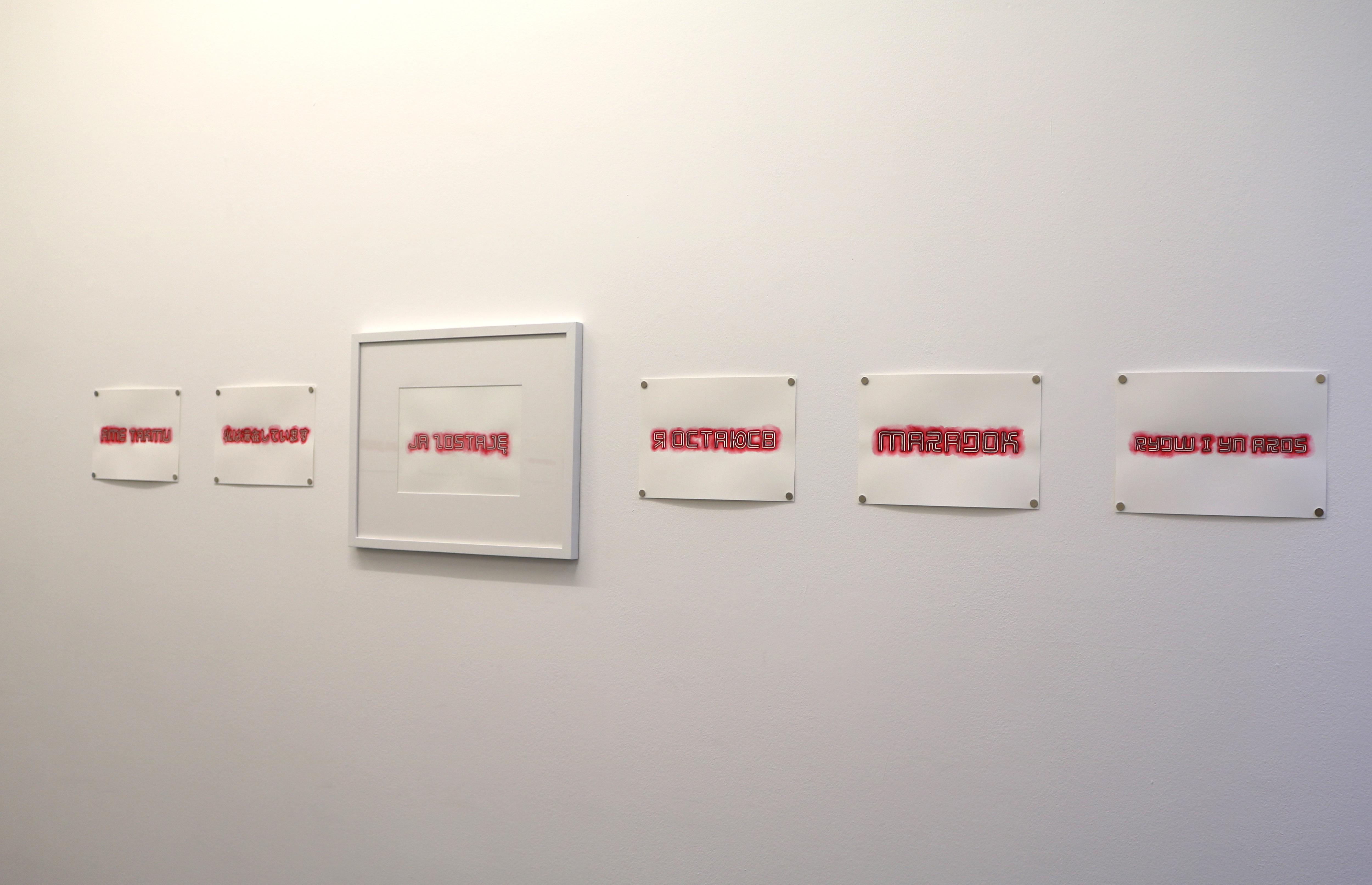 Photo credit: Nick Turpin
As part of
Nocturnal Creatures
I presented
The Will to Proceed
, a tour which coincides with my on-going participatory project I'M STAYING. The I'M STAYING neon sculpture initially travelled around the city of Bristol for two and half years travelling via democratic vote. I'M STAYING arrived at Leadenhall Market in 2018 as part of the eighth edition of Sculpture in the City and will remain, for another year, for the ninth edition. In maintaining the democratic essence of the project, my tour required participants to vote repeatedly to determine the group's movements throughout the tour. I started by describing two artworks to the group, while not revealing the artist's name, the artwork's title or the medium. I attempted to focus on the ideas behind the work and what feelings it instils, leaning more towards the poetic. The group then voted for which one of the two artworks they would like to visit. Once at the artwork, an informal group conversation was had about the sculpture's meaning, truths, and descriptive accuracy. This process repeated four times, throughout the tour.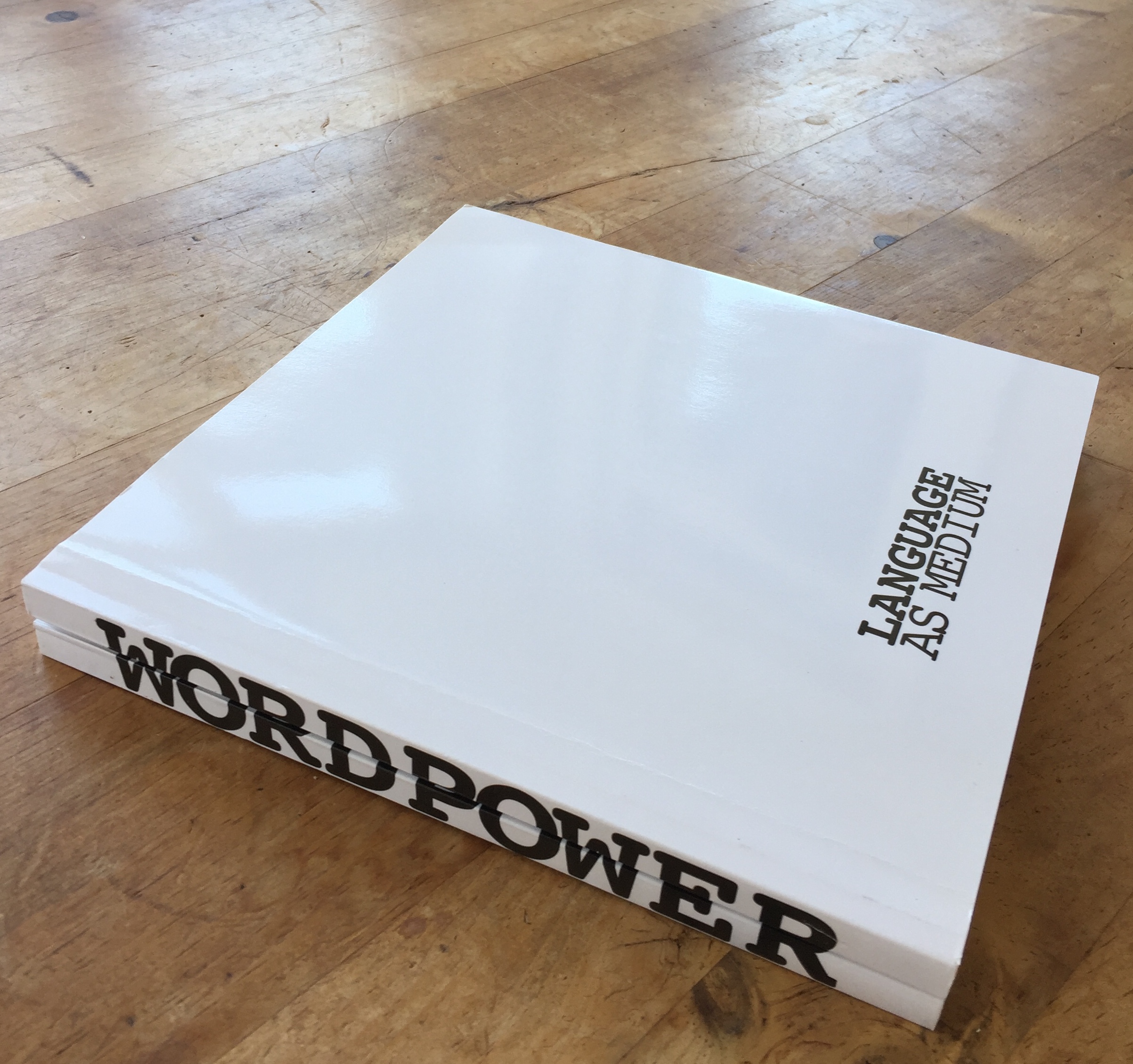 WordPower: Language as Medium
Reflecting on the shift from representative forms to simplified modes of visual communication, this two-part publication explores works by a selection of 100 contemporary artists who implement the direct use of language and the written word in their process. WordPower features practices ranging from socially engaged and participatory approaches to sculptural, conceptual, performative and new media formats.

Publisher/Imprint: Library X
Compiled and edited by Sarah Peace
Foreword: Manick Govinda and Viviana Troya
Postface: John Reardon
Dimensions: 220mm x 220m x 20mm
Weight: 1095g
Length: 368 pages
BOOK I ISBN: 9780993175152
BOOK II ISBN: 9780993175183

You can purchase a copy of the publication here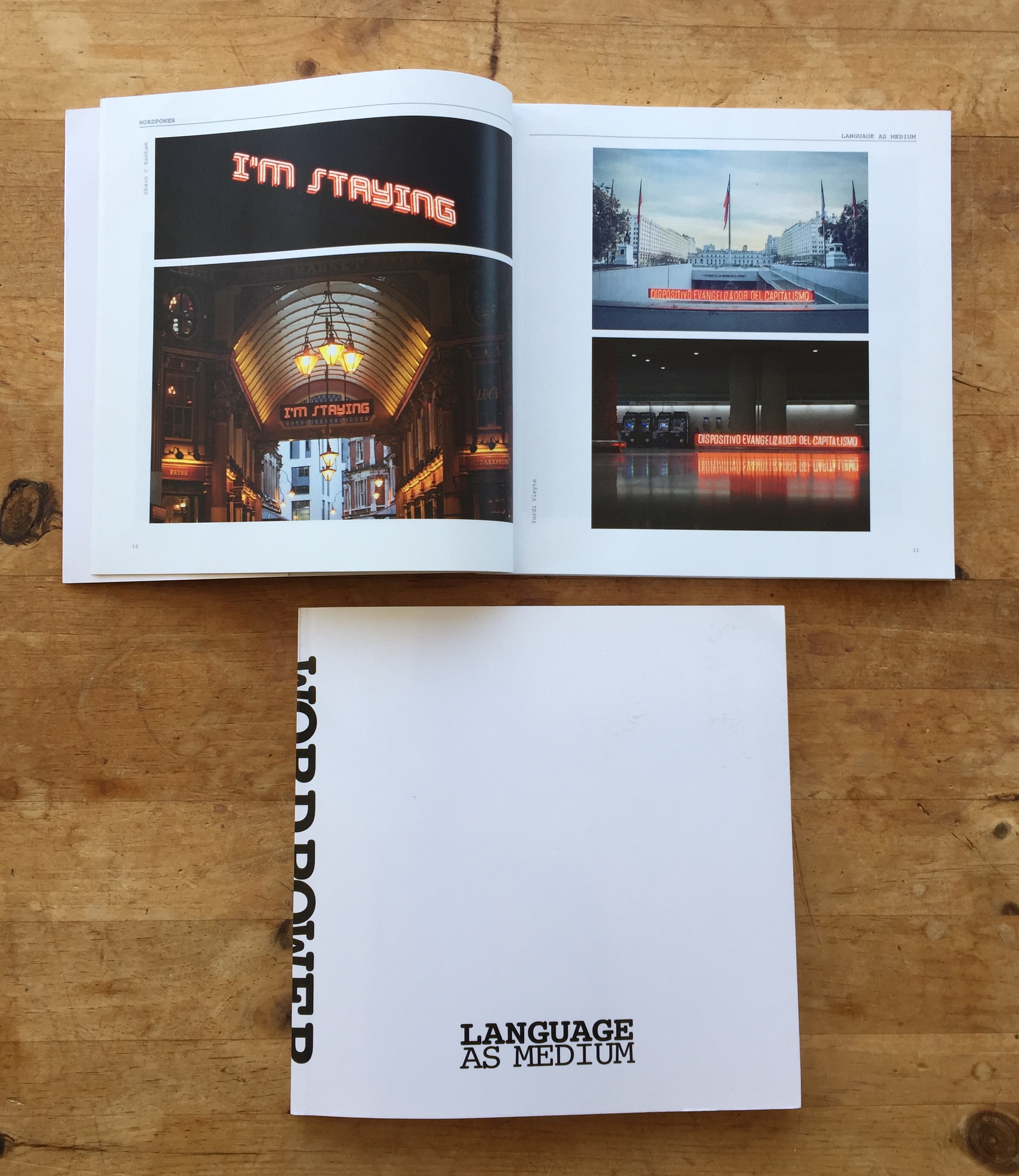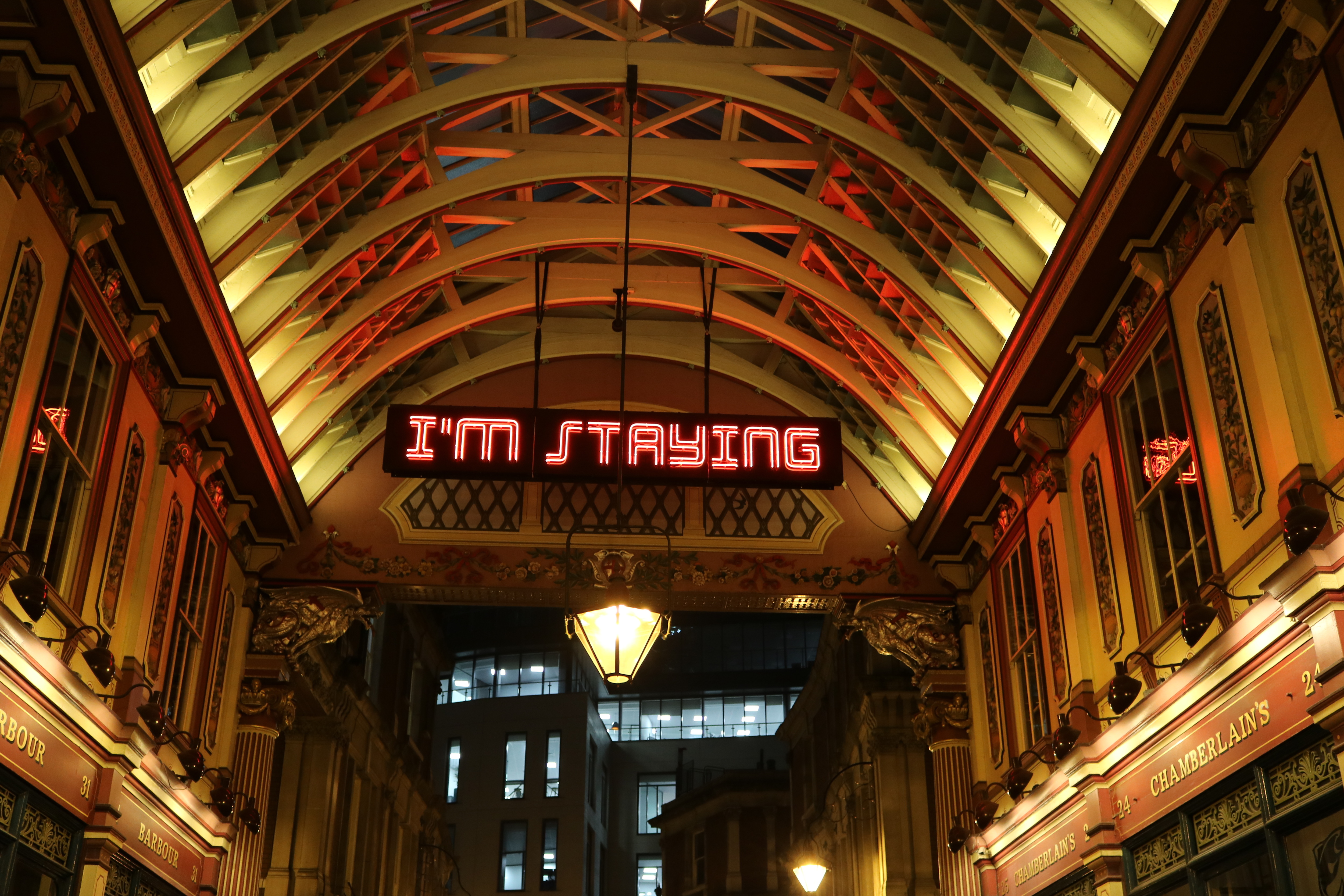 I'M STAYING
, Neon, 550 x 20 x 80 cm
Leadenhall Market, London
June 2018 - March 2021
I'M STAYING will remain on show in
Leadenhall Market
, London, for
Sculpture in the City
Edition 9
I'M STAYING is a neon sculpture which was originally commissioned in 2014. The sculpture travelled around the city of Bristol, UK moving quarterly for two and a half years, with each location determined by the Bristol public voting online and suggesting new locations. The I'M STAYING project has since expanded and produced multiple artworks, including prints, screen-printed t-shirts, stamped currency, videos, photography, surveys and paintings. Each of these pieces attempts to explore the varying discourse generated from the neon and its movements. The artist has begun to develop new works in response to the Sculpture residing in Leadenhall Market.
Sculpture in the City Edition 9 includes: Kevin Francis Gray, Do Ho Suh, Michael Lyon, Leo Fitzmaurice, Nancy Rubins, Salvatore Arancio, Lawrence Weiner, Nina Saunders, Patrick Tuttofuoco, Shaun C Badham, Marisa Ferreira, Nathan Coley, Juliana Cerqueira Leite, Jyll Bradley, Clare Jarrett, Reza Aramesh and Elisa Artesero.
Sculpture in the City Edition 8 included: Marina Abramovic, David Annesley, Shaun C Badham, Miroslaw Balka, Jyll Bradley, Tracey Emin CBE RA, Clare Jarrett, Juliana Cerqueira Leite, Gabriel Lester, Sarah Lucas, Amanda Lwin, Jean-Luc Moulène, Michail Pirgelis, Thomas J Price, Richard Rome, Nancy Rubins, Sean Scully RA and Karen Tang
I'M STAYING T-shirts
can be purchased
here
.
Links
ArtDaily: Highest ever number of artists take part in City of London's Sculpture in the City 2018
Art Industry News: July 2018
Leadenhall Market - Sculpture in the City
Londonist - The 2018 Sculpture In The City Is The Best Yet
City Matters - City sculptures accessorise the Eastern Cluster
ArtLyst - Sculpture in the city
Culture Whisper - Sculpture in the City
I'M STAYING Currency prints
Digital Print
84 x 59cm
2018
In 2014 I commenced my long term project titled I'M STAYING which was initially a large scale public neon also reading I'M STAYING which travelled democratically around the city of Bristol moving quarterly over 2 and a half years. While the neon traveled around the city of Bristol, I undertook the intervention of stamping a certain amount of the independent currency titled Bristol Pound, with a red I'M STAYING ink stamp. This allowed the neon and the stamped currency to travel around the city at the same time. In 2018, for Sculpture in the City the I'M STAYING neon arrived at Leadenhall Market, in the 'City of London', known as the historic financial district. I instigated to repeat the same intervention. After an email correspondence with the Bank of England my proposal to stamp the Pound Sterling was rejected. I have since designed a custom note titled I'M STAYING Currency, which includes design and layout references from Sterling, Euro, Leadenhall Market, the neon and online searches for images depicting democracy.
I'M STAYING Currency (Five)
Digital Print, 84 x 59cm, 2018.
I'M STAYING Currency (Five)
Digital Print, 84 x 59cm, 2018. Detail of Five note.
I'M STAYING Currency (Ten)
Digital Print, 84 x 59cm, 2018.
I'M STAYING Currency (Ten)
Digital Print, 84 x 59cm, 2018. Detail of Ten note.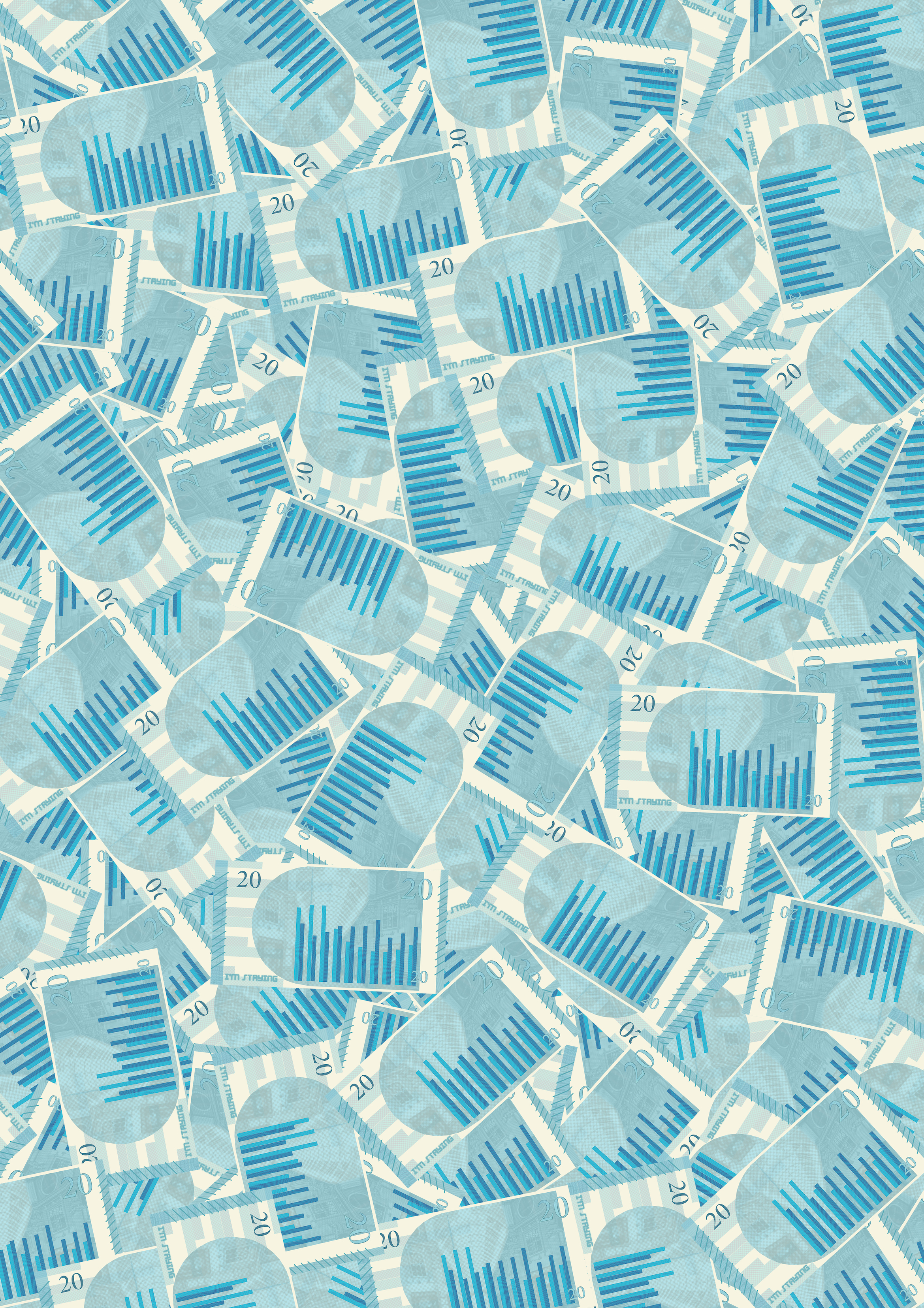 I'M STAYING Currency (Twenty)
Digital Print, 84 x 59cm, 2018.
I'M STAYING Currency (Twenty)
Digital Print, 84 x 59cm, 2018. Detail of Twenty note.
I'M STAYING Currency (Fifty)
Digital Print, 84 x 59cm, 2018.
I'M STAYING Currency (Fifty)
Digital Print, 84 x 59cm, 2018. Detail of Fifty note.