15th Feb 2020. Symposium at Whitechapel Gallery. Concrete & Ink: Storytelling and the Future of Visionary Architecture, On Walking and Dreaming.
Featuring a screening of Jasmina Cibic's Tear Down and Rebuild (2015, 15 min) followed by a panel including artist Shaun C. Badham, writer Alison Irvine and urbanist Gruia Bǎdescu, chaired by Theatrum Mundi's Marta Michalowska.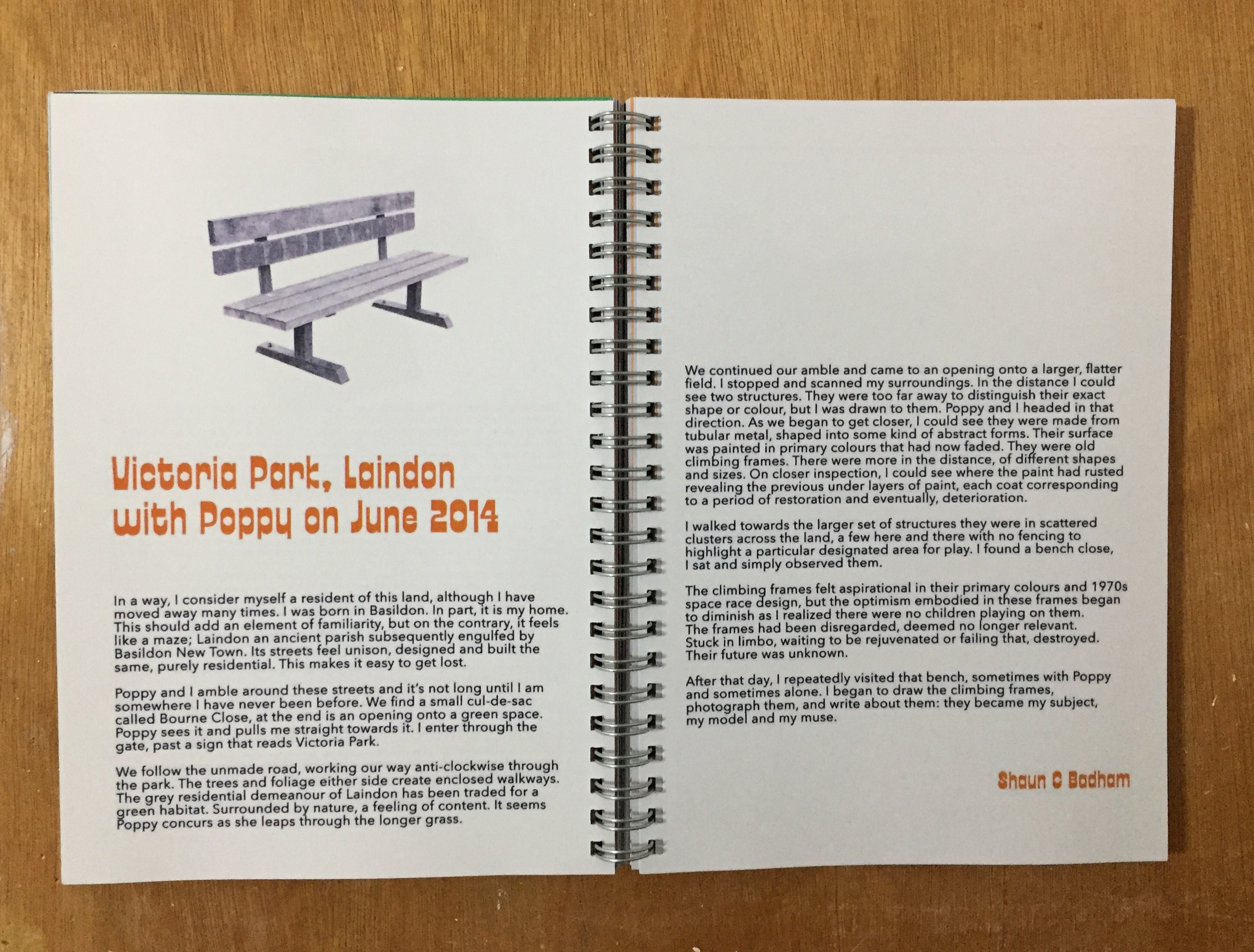 In 2019 Lu Williams launched Basildon Tenants Handbook which is a "zine documenting the voices of Basildon residents through self publishing workshops, an investigation of the radical and creative history of Basildon, artists commissions and collaborations." Lu used a revised chapter from my essay MORNING and a selection of pictures. The zine includes contributions from many Basildon residents and local artists such as Rose Cleary, Holly Firmin, Maz Murray and Ruth Hazel,



In 2017 I was interviewed by Christopher Smith for his film New Town Utopia which was later released in 2018. Chris also documented moments from the MORNING Laindon Launch, which were also included. You can find out more about New Town Utopia here.



In 2018 MORNING was invited to contribute images for a double page spread in the Radical Essex Book published by Focal Point Gallery. Radical Essex Book is distributed by Cornerhouse Publications.



In 2018 I curated a video playlist for the Radical Essex Youtube Playlist. The playlists can be viewed here.
Togetherness: Notes on Outrage
Presented at Kestle Barton, Cornwall
Togetherness: Notes on Outrage at Kestle Barton presents new works by artists Felicity Hammond, Polly Tootal and Shaun C Badham. Alongside sit temporary works and film screenings from artists Joseph Townshend, Catherine Yass, Jason Wood, Mark Jenkin, Matthew Burgess and Jamie George.
9 September – 4 November 2017
Preview: 9 September, 2-5pm at Kestle Barton, Cornwall
Photography by South Kiosk
About Togetherness: Notes on Outrage
If you feel like working up a head of steam about the shortcomings of English architects, engineers and town planners, the south-west is a good place to go
. Ian Nairn, 1967
Togetherness: Notes on Outrage celebrates the pioneering work of the architecture critic Ian Nairn whose 1955 edition of Architectural Review, entitled Outrage, revolutionised architectural criticism. For Outrage, Nairn travelled across England observing and documenting the urban sprawl and ubiquitous civic architecture. Broken into 25-mile segments, Outrage proposes an audit of every facet of subtopian aesthetics, covering subjects ranging from wire fencing, telegraph poles and street lights, to military installations and power stations, culminating in a manifesto and checklist of planning malpractices.
Togetherness: Notes on Outrage at Kestle Barton represents the continuation of South Kiosk's ongoing research project first begun at our London space in 2016. Having first explored Nairn's writings within an urban context in London, Togetherness moves to Kestle Barton to focus on Cornwall and Nairn's writings on the 'wild' environment. For the show, photographer Felicity Hammond presents a new large scale collage work, 'Lands End' in reference both to the Turner painting of the same name and the potential change in the landscape of the area. Polly Tootal's large format architectural photographs reference a number of site visits made to new residential and business developments across Cornwall, the South-West and wider England over the past year. A recent graduate from Goldsmith's MFA programme, Badham presents MORNING. A long term research project, MORNING explores the correlation between a series of 'space race' influenced climbing frames and the post-war New Towns movement. The frames, their design a reflection of the optimism of the period, subsequently fell into a state of near disrepair epitomising the stagnancy of the New Towns movement across England.
Togetherness: Notes on Outrage is presented by South Kiosk in collaboration with Kestle Barton and was made possible with funding from Arts Council England.
About the Artists:
Tootal's photographs consider the way in which abandoned industry mixes with functioning architecture and development, depicting spaces left awaiting completion or areas of recent renewal. The modern British landscape is represented as rich with human activity, yet bereft of human presence. Obscured by a lack of context, yet strangely familiar. Tootal's subjects are presented in such a way to highlight their eccentricities, focusing our gaze on the peculiar nature of their architecture and terrain.
Hammond's practice is concerned with decaying British post-industrial landscape and the material language of urban regeneration. Her sculptural photo work, Bermuda Grass, borrows its name from an invasive weed, though its exoticism might be attributed to that of a luxury interior palette, a contemporary bathroom suite, or an imported house plant. Bermuda Grass recalls the weeds that emerge from the cracks in the shifting post-industrial plane, whilst referring to the digitally warped visions of simulated vegetation that can be found in speculative images of opulent living.
Badham's practice includes sculpture, installation, talks and urban interventions with an interest in working collectively. Badham's work attempts to act as a catalyst for social engagement and change, his long term projects often involving significant audience participation to create collective action. Badham is a recent graduate from the MFA Fine Art course at London's Goldsmith's University.
Togetherness also includes temporary and film works by artists Catherine Yass, Joseph Townshend, Jason Wood & Simon Barker, Mark Jenkin, Matthew Burgess and Jamie George.
About Kestle Barton
Kestle Barton is an ancient Cornish farmstead situated above the Helford River. Opened in 2010, the gallery has a programme of four exhibitions each year working with artists based in, or with strong connections to, Cornwall.
www.kestlebarton.co.uk
MORNING Essay
is an unpublished text completed in September 2017 and is intended to be an extension of the MORNING installation, presented at Goldsmiths MFA Degree Show in 2017.
PDF in English available
here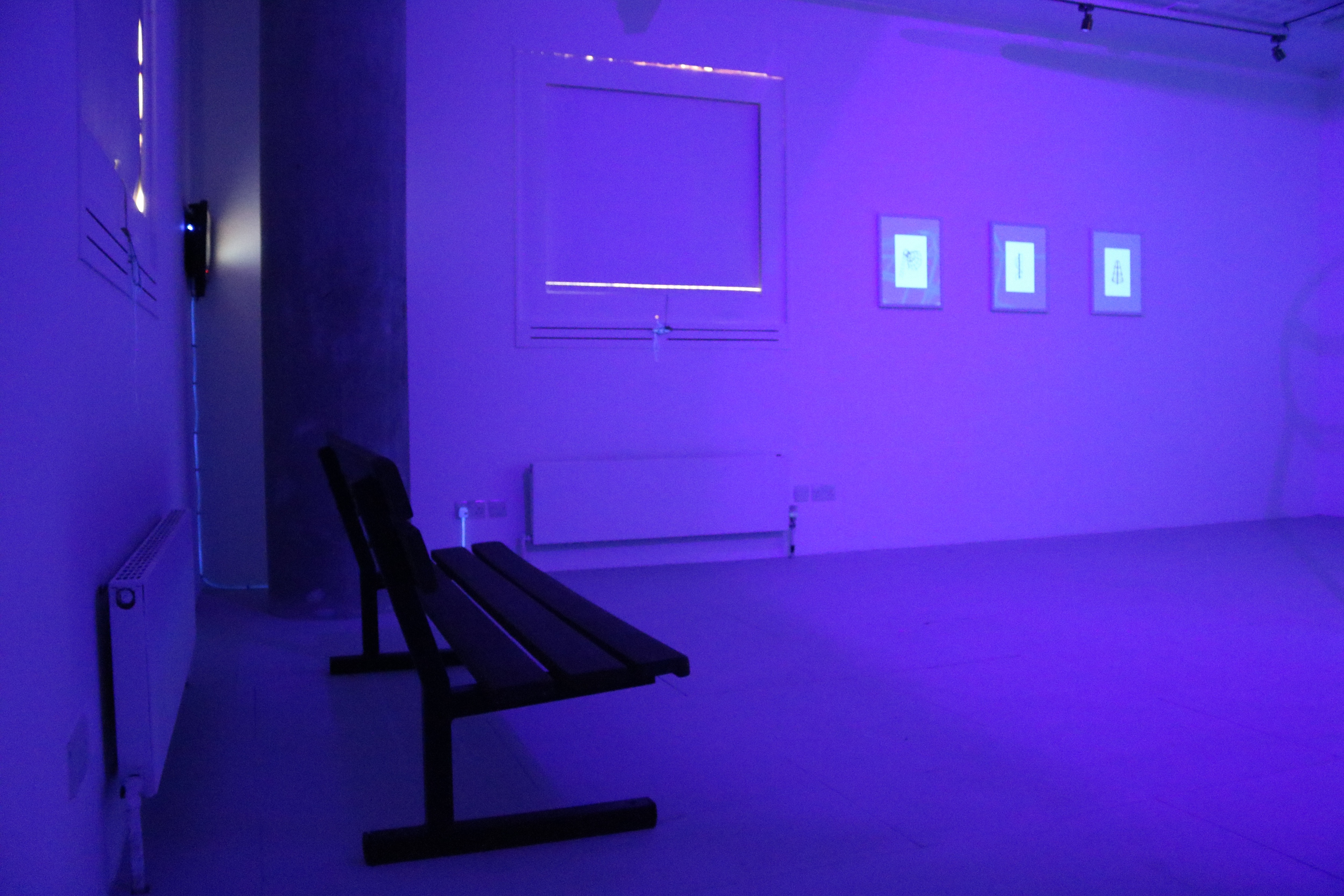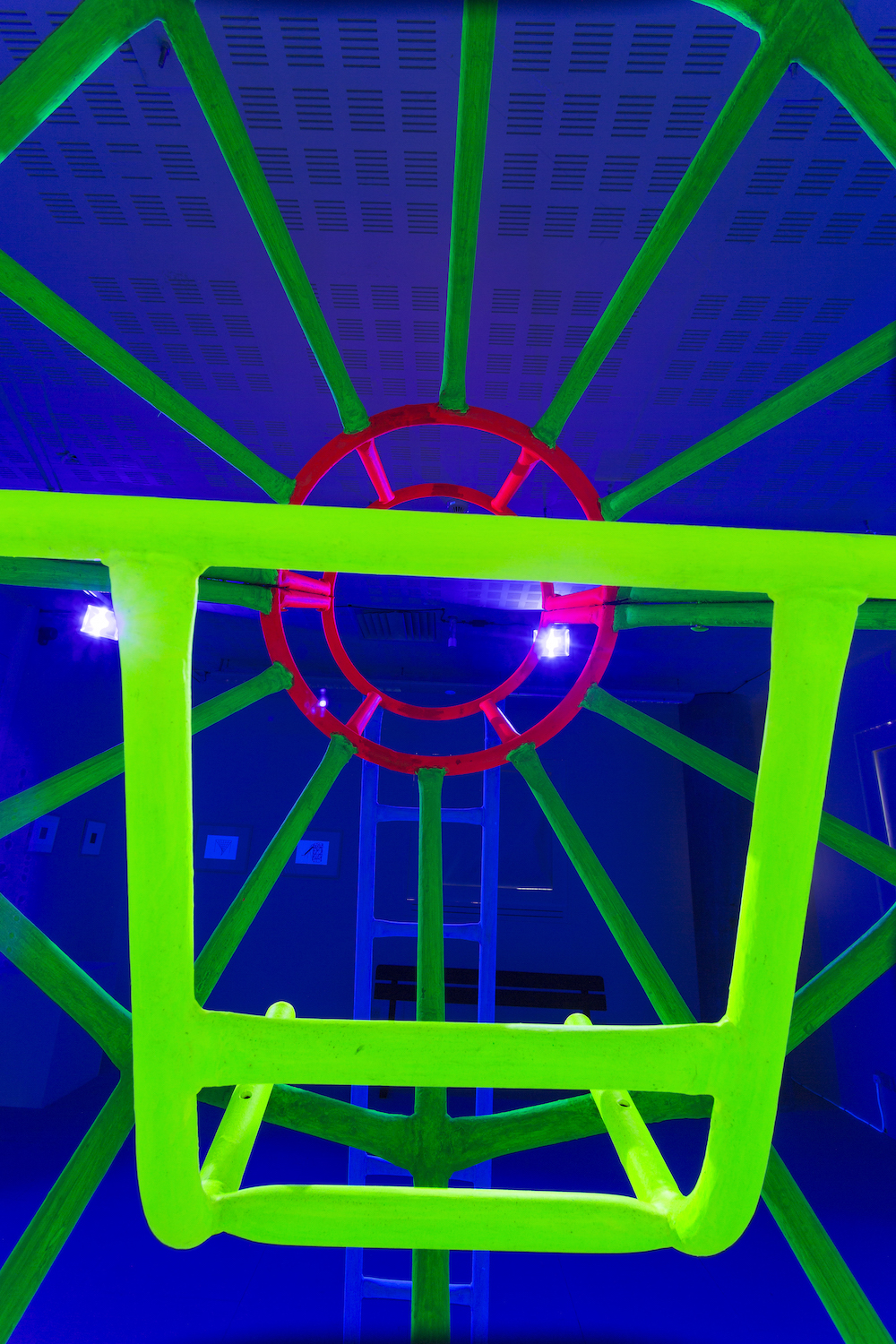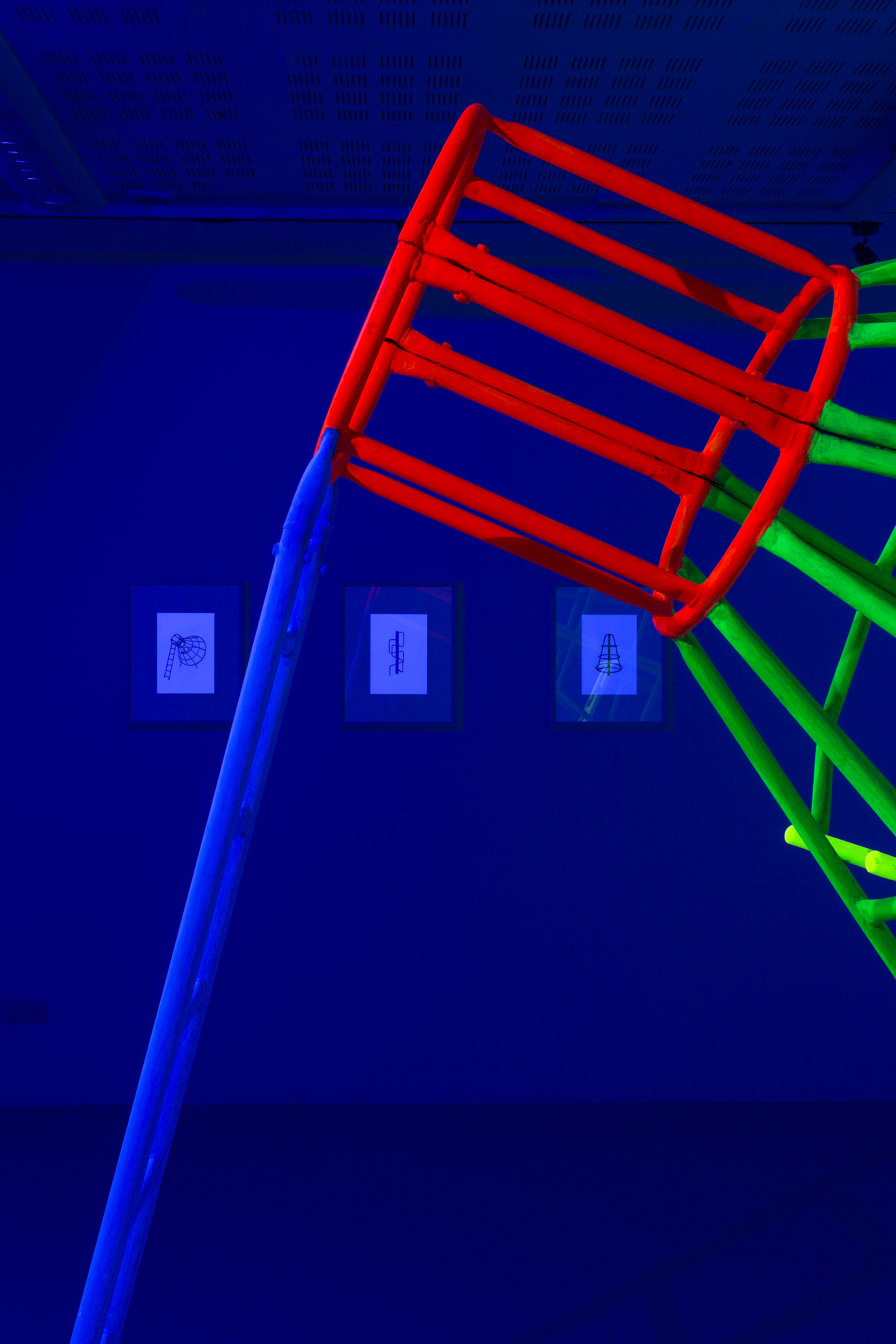 Throughout the exhibition I ran a series of talks in the MORNING installation. Below are the descriptions and the audio recordings of the talks.
Ken Porter
Talk: Changing Face of Basildon over the last 150 years
Ken will explore the Plotlands a rural community the resided in Basildon, Essex area from 1890 to 1970. Ken will commence with the changing farming environment, the plotland development, to the rise of the Basildon Development Corporation with the Basildon New Town. The primary emphasis will be on Laindon and Langdon Hills, the type of buildings, facilities and in some cases lack of.
Ken is a retired finance director of a small public company. Ken's interest in Local History has led him to Chair groups such as Laindon and District Community Archive and Basildon Borough Heritage Group. Ken is author of several books on WW1 and 2 and local famous people.
Stephanie Sutton
Talk: From Plotlands to Playgrounds

This talk will explore the role of childhood and play in the new towns programme, with specific reference to the 1970s climbing frames at the centre of MORNING. Stephanie offers a site specific and historical point of view, focusing on Laindon in Basildon, from the plotlands communities, new towns experiment, to the present day.
Stephanie is a curator, writer and researcher, working across art, design and architecture. Her research has focused on post-war architecture, urban history and the material culture of childhood. She has worked with organisations including RIBA, Focal Point Gallery, Camden Arts Centre, V&A Museum of Childhood, the Royal College of Art, The Twentieth Century Society and Tate. Stephanie holds an MA in Design History from the RCA/V&A and is currently undertaking a collaborative PhD at Queen Mary, University of London and the V&A Museum of Childhood, entitled Adventures in the City: The Politics and Practice of Children's Adventure Play in Britain, c. 1955 – 1997.
Grant Taylor
In conversation: Leisure and Community

Grant and Shaun will take part in discussion around topics such as the town of Basildon, notions of collaboration, reaching a consensus, compromise, bureaucracy and working with artists.
Grant is currently the acting Leisure Development manager for Basildon Borough Council and undertaking Community Development and Leadership at London Metropolitan University.
Grant has worked with numerous local communities to identify deficits and opportunities. He utilizes an asset-based approach to collectively co-design solutions to tackle and seize them.
About
MORNING is a long-term art project that attempts to identify the correlation between a series of climbing frames, designed in the 1970s & situated in Victoria Park, Laindon in Essex, with the area's inclusion in the Basildon New Town experiment, and their simultaneous periods of change. When peeling back the layers of history that can be found in Victoria Park one can begin to learn about Basildon– from the Plotlands to the New Town experiment.
MORNING's aims were to consider this history while setting out to save and restore the park's heritage climbing frames, giving them a new lease of life. They will be painted in a UV sensitive paint, so when a UV torch is shone on them at night, they will glow.
The
MORNING
publication features images referencing the past, present and future histories of Laindon, the publication includes a newly commissioned text from
Stephanie Sutton
and an interview between project curator
Warren Harper
and artist Shaun C Badham. Publications are available to be purcahsed online
here
and at the front desk of
Focal Point Gallery
and
Beecroft Art Gallery
.