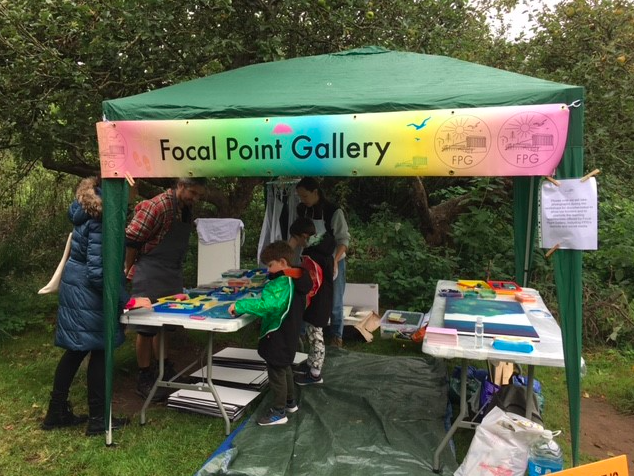 This Plot is Not for Sale: Sign Making Workshops
Apple Day Celebration, St Laurence Orchard
2 October 2021

Artists Shaun C. Badham and Philippa Stewart worked with families and friends of Trust Links at St Laurence Orchard for the Apple Day Celebration, where you will be able to make your own This Plot is Not for Sale sign. Using an array of colours and techniques, everyone who makes a sign will be able to take one home and larger collaborative signs will be created, and offered to local community groups who care and work the local land to potentially install as a public declaration. In the past, alternative, self build uses of land such as plotland/settlements existed in the area, including Peggle Meadow and Eastwoodbury, which the latter has sections of land now part of the orchard today. Wider plotland communities existed in surrounding areas such as Thundersley, Laindon, Pitsea, Hullbridge and Ashingdon to name a few. Whether through force such as compulsive purchase orders or via the increase in private land sales, ownership of land by working-class individuals or community organisations has been in jeopardy. Today allotment societies, charities such as Trust Links, and other community groups, who care and work the local land, still find themselves in a precarious situation around land ownership. This Plot is Not for Sale is both a statement of provocation, and affirmation depending on the readers perspective.

These workshops took place at St Laurence Orchard, on the Apple Day Celebration.